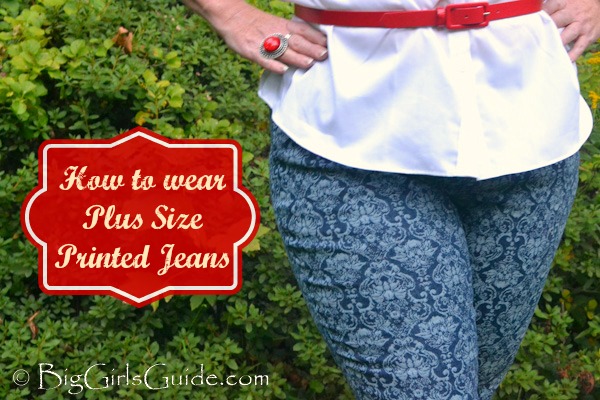 Plus Size Fashion: How to wear Plus Size Printed Jeans. This is my review of the Coldwater Creek plus size printed jeans.   As a plus size women I was wondering can I pull off a pair of printed jeans,  without looking silly.  Then I tried on and was provided for review at the Fashion Forward Conference  these Coldwater Creek printed jeans…WOW  I love them.
These Coldwater  Creek jeans are actually, not printed but a woven pattern,  or jacquard denim.   Beacause the pattern is not printed,  which makes the quality excellent and a great weight for fall.  The jeans have a slight amount of Lycra so they stretch but not too much and do not grow while you wear them.   I really loved how comfortable the patterned jeans are.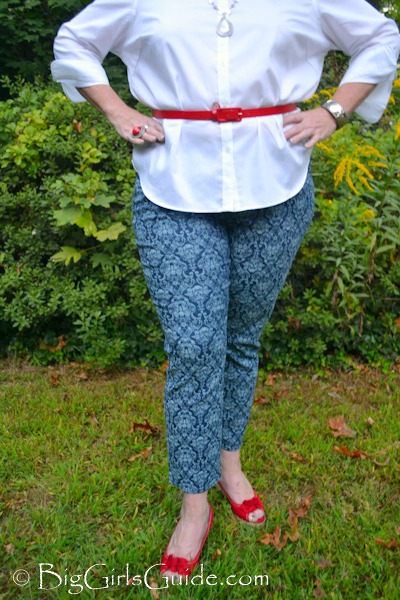 The jeans were fun to pair with my favorite red wedges..( I know you are tired of seeing them in my post).  These jeans are shorter then what I normally wear.  Being that I am size 18 and 5'11″ish   I am very conscious of short pants (I have a very long inseam), I have to say I really loved them short .  These pants do not come in a tall, i am wearing a size 18,  I wear a 20 jeans if they have no stretch..   Here is what the pockets look like on the Coldwater Creek jeans.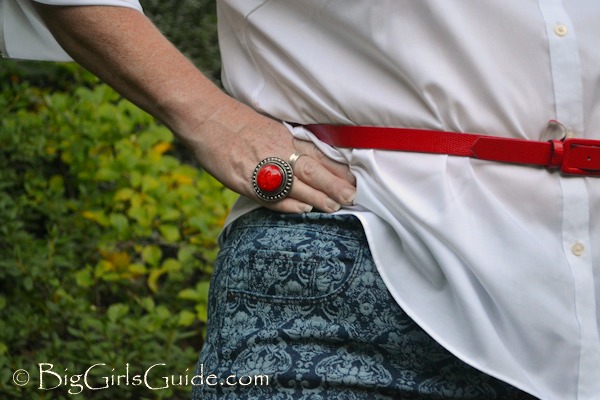 I loved the waist on these jeans,  they were high to make me comfortable ,  but not mom jean waist.  as a plus women i hate when the jeans have a lower waist because I need some control and hate putting up my jeans when the rice is too low.  Cold water creek did a great job thinking about the fit of a plus size women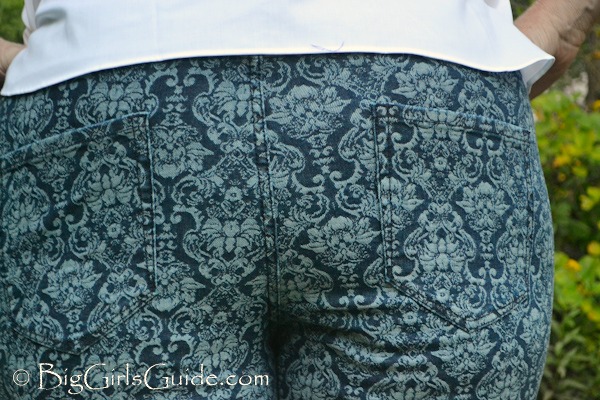 This is a side view of the jeans,  I never do a side view the white shirt helps to hide my belly: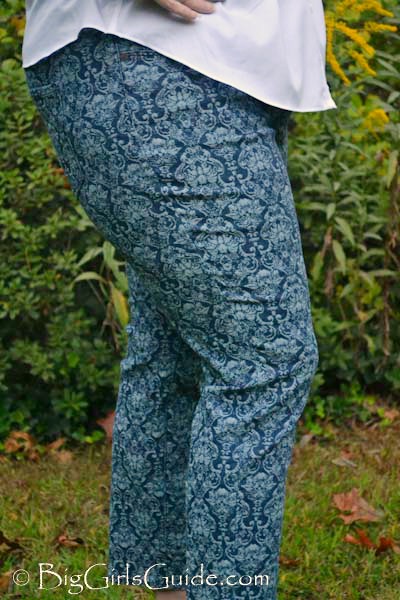 How to wear Plus Size Printed Jeans:
Do try on the jeans, don't be afraid to wear a pair
Pair with a a plain shirt, and or t shirt
wear a longer shirt,  so you can camouflage your belly
Don't be afraid to use a pop of color in a belt
Wear great statement jewelery
I am amazed by these jeans I love the fact I can wear them everyday and look stylish.  I wore this outfit to an event and I received a ton of compliments.  I highly recommend these patterned jeans form Coldwater Creeks plus size collection.  Also currently Coldwater Creek is having a 30% off sale on all full price items.
I am link this post up to ThePleattedPoppy what I wore Wednesday:
I am link this post up to Kelley Centsiable Fashion Friday: