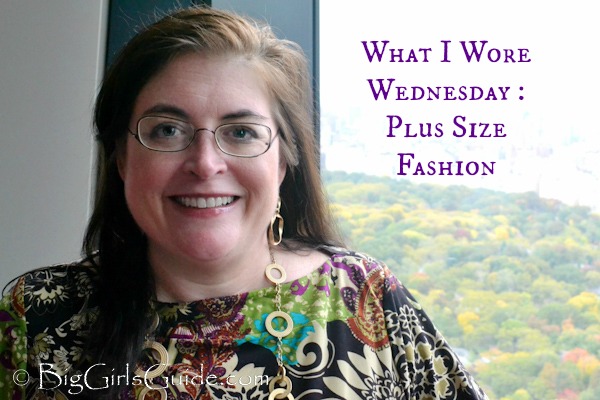 The Plus Size printed dress on a big girl figure it can be a little scary.  It kind of screams .. Look at me. I know when I first ventured in to printed water.  I had the same fear.  Here is the thing.. why should you not say look at me?  This week I attended The Big Toy Book event,  the location was well on the 44th floor of the Hearst Tower in NYC over looking central park. I don't know if I every saw a more beautiful view of the city. So I wore my printed dress .. so yea.. look at me.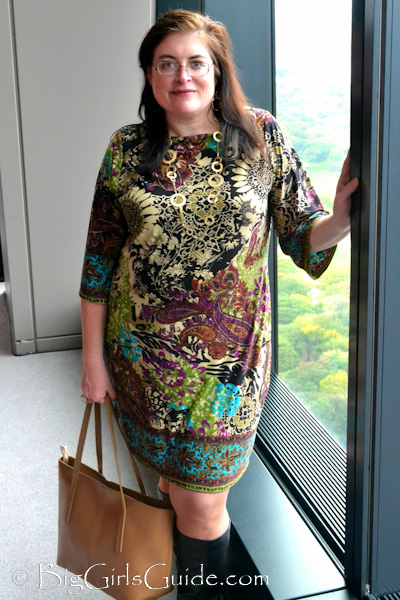 The Plus size printed dress is from Ross it was a steal at $23.99.   I prefer not too spend money on dresses that are trendy.    I love this printed dress, for right now.  It is colorful and fun it has sleeves, it is a great transitional piece  from fall into winter.   The pattern is not to big and move your eye around the dress so as not to draw attention to anyone area of my body.   The ending sleeve and hem  border patterns  make the dress have a finished look.
I wore shapewear underneath to insure all my bits did not giggle. I also wore stockings yea it was a cold day in NYC, and my legs needed tanner.
My necklace is Lia Sophia from a few years back. The ring I purchased this summer at a costume jewelery shop.  I get a ton of compliments on my ring and it picked up the blues in the dress.   Earrings: a double loop drop earrings I found at a local ship.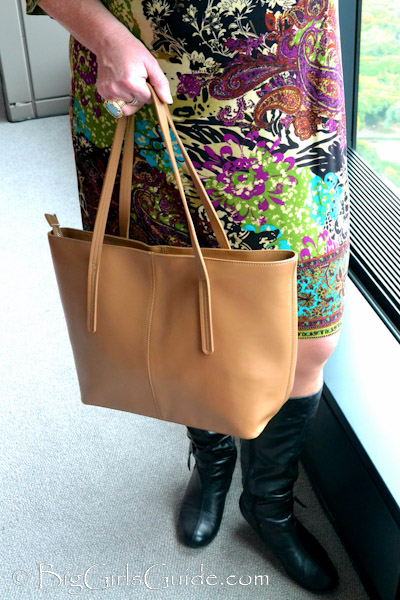 My handbag was a large Massi Bag prefect for New York.  This bag is a classic so worth the splurge,  but I got it for a song  thanks to GMA- Jills Steals. The bag has a zipper and large enough to hold extra "train shoes" and an umbrella, along with all the other essentials. The bag also is large enough to balance my larger frame.  Be aware of the size of your hand bag because the right size will work with your body type too small makes you look like you are carrying your daughters. (but that is a separate post.)
My boots are my favorite pair. Areosole's boots from 2 seasons ago, I purchased them in August.  These are the best because they have a wide calf zipper that extends to allow for the little extra room a Big Girl needs.
Don't forget to check out my post on wide calf boot affordable options.
This Post is linking up to Pleated Poppy What I wore Wednesday.