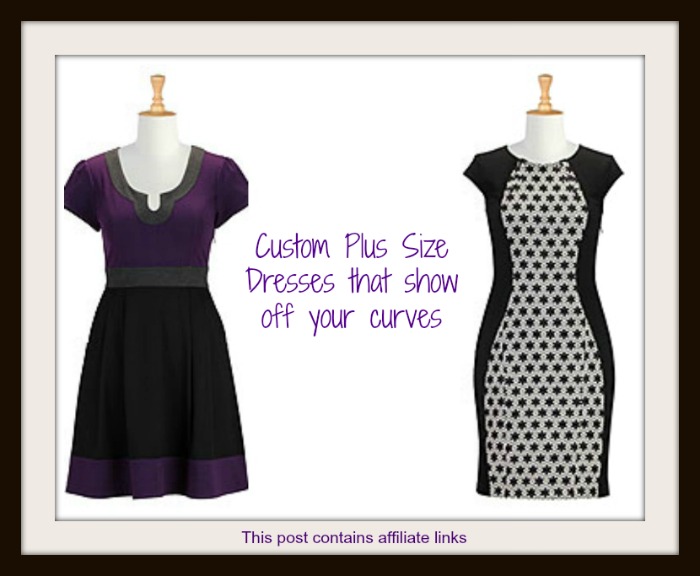 Plus Size Dresses Custom Plus Size Clothing that Show off your Curves : Anyone who knows me,  knows that I love dresses.  I just think they are easy,  You wake up and don't have to think about matching or if a top is clean or a jeans got some kid gooey food  on them.  I think Sunday morning is one of my favorite time to dress all week. Because wearing a dress makes me feel pretty and girly.  Also my husband smiles alot when I show some leg.
So I wanted to introduce you to E-Shatki the great thing about E-shatki is every thing can be customized to your size.  Love!Love! this service for us big girls because you can find something that you love and have it made to your size for a few dollars more.  Custom plus size clothes.. yes.. custom clothes.
E-shatki this dress is wonderful for the office not too tight by a Knit sheath dress with a touch of spandex.  So on trend with modern color blocking and the graphic trend.   The black side panels are slimming.  Pair with fun heels. and a great Black bead necklace.  The Purse a clutch.
This Color Blocked Pointe Knit Dress Dress from e-shatki is great because it is a hot color this fall plus,  the neck line draws your eye up to your fabulous check.  The skirt is fill but cut in an A line so not gathered at the waste the dark color through the mid section is a great way to hid middle section flaws.  Currently $71.95 on sale . I love these booties with this dress with dark tights.  Fun, flirty, and modern.
I love this solid dress from E-Shatki $89.99 .  With purple a hot color this fall.  It is color which is a mix up and fun .  Pair with a bright heel and large Plastic Bead necklace and a clutch.  Super cute.

This Hounds tooth print dress $69.95  at e-shatki is so on trend this fall.. this dress is lovely all black up the back to camouflage your behind and the dark hip are helps to hide the belly. they offer up to a 5x.  Love this with a simple heart necklace.. I see black flats have a flat bow on tip Payless for $19.99.  with the matching hint of blue necklace.
Illusion print yoke crepe dress
Illusion print yoke crepe dress
So would you consider buy some custom plus size clothing?  So what do you look forward to wear  every week and what is your favorite style?
Payless Coupon Code  has some great online offers this week:  The also have free shipping for over $50
I am linking Up with JoLynne's   AMusingofaHousewife Fashion Friday