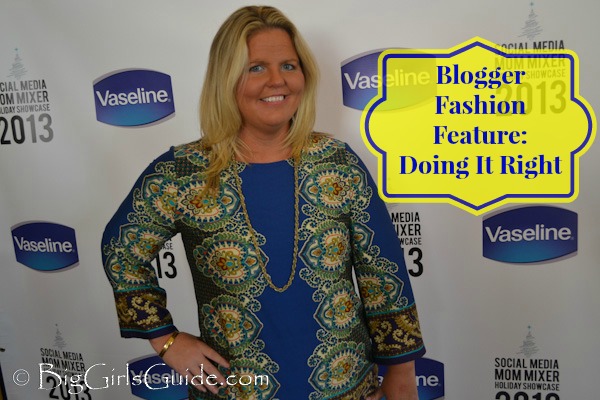 Plus Fashion Blogger Feature: Joey Fortman at the MomMixer I noticed that my fellow blogger Joey Fortman from Real Mom Media was looks amazing.  She had a baby several months ago and is looking great.  So I had to feature this "Doing everything right" outfit she was wearing:
Her pants are from Jockey Person to Person Catalog.  Joey said the Jockey brand has a comfort stylists,  they works with you to find the right clothes.  I never knew about this brand so I was excited to learn about them from Joey.  She said the pants are amazing and feel great. The choice color, she could have went for black which is easy for any women and chose a neutral color was king.  Also the fit was great as a Taller Big Girl we have to make sure pants are long enough and pant break (aka the fold above the foot is just right) allowing the top  foot to peek through and not too long.  This pant is also a nice mid-weight knit not to heavy and drapes nicely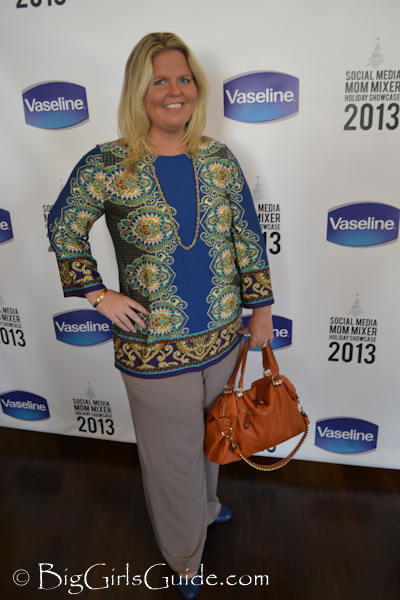 Joeys wore a blue leather colored flat from Bandolino shoes,  so easy and comfort for a long event tied the outfit together.  The purse.. I styled from a fellow blogger at the Mom Mixer because I loved the pop of color,  which ties back to the top.  The gold details and woven strap tied in  the gold.   The orange purse is from Marshals  ad I think I will be looking for one.  Joey also chose simple jewelery with allowed the top to shine.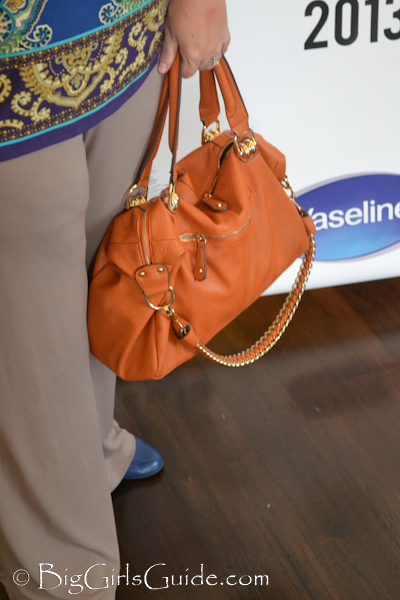 Saving the best part of Joey's ensemble  for last … Joeys  top from Sunny Leigh was the clinch piece.  The top is a light weight printed knot so it moves with her but does not cling.  The amazing  part about the top is the print directional baroque/paisley print.    The vertical and the placement on sides away from center break the vertical into 5 distinct areas.  Check out below where I break out why the top was a perfect plus size piece.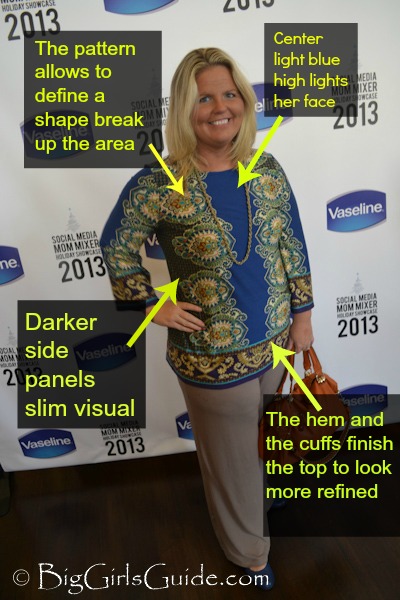 *** In  the comments Joey told me she bought this top at BJ's Wholesale club .. for $9.99  awesome and it is a bargin too
I have to say the baroque prints are hot this season and this looks is a great look on any women.   Bravo to Joey for allowing me to feature her and check out her great Toy Video on her Joey Fortmans You Tube Channel and Real Mom Media.
If you want to be feature or are a brand that wants me to Dress a blogger.   Please drop me a line at sherry @ biggirlsguide.com
I am Linking up To All things Chic Fashion Friday
Be sure to check out My  Pinterest Pages and follow me on BigGirlsGuide on Facebook so you can stay up today on the Latest BigGirlsGuide tips.