by


Animal Plus Size CushieB Review : Luxury Plus Size Clothing OOTD
This week I got to go to the city with my husband for an event for Guinness.   What is great  the event was a causal event at a upscale bar, yea a reason to dress up.  When we arrived  I even got to use a special password to get into the "speak easy" lower level bar.  Knowing where I was going I want to wear a an outfit that was casual but yet dressy.  I was so happy when Chushie B contacted me to review their great Plus Size American Made clothing line.  ChusieB sent me a couple of items but this blouse camisole combo was perfect for this evening.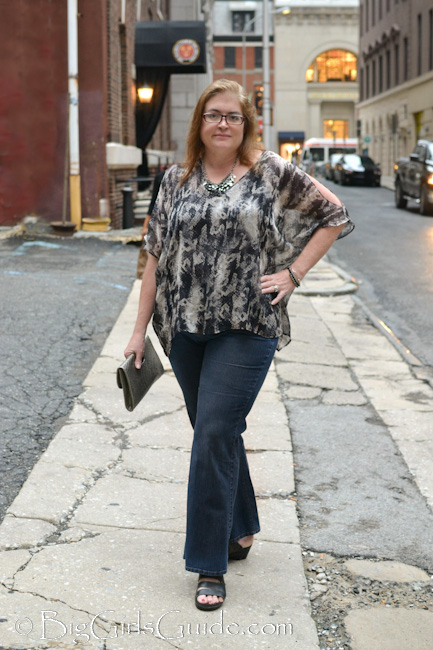 My Plus Size Top is a CushieB  silk snake skin tunic is made out of beautiful 100% silk chiffon fabric.  I love a chiffon fabric if you are unaware of what it is,  the actually fiber in the fabric are twisted  so they have a drape and texture to the hand but super sheer.  The fabric being silk hangs amazing.  The tunic was connected/sewn at the shoulder and then connect at the bottom of the sleeve,  for a sexy exposed sleeve look.    My impatient photography (husband) did not get the shot of the sleeve – sorry I cann't show you (this is why I have my son do my photos- but I could not take him to the beer event) .    The copper snake skin print on the tunic was clear and vibrant.  I love a quality fabric against your skin it just feels great to wear.
Since the outer layer was sheer they tunic came with a light weight silk crepe black  camisole.  The fit and drape of the camisole was perfect.  Wider on the bottom to fit smoothly over my pear shaped hips, as a plus size women fit is king  when purchasing clothes.  The camisole straps are adjustable.  I paired the outfit with dark jeans an a high sandal.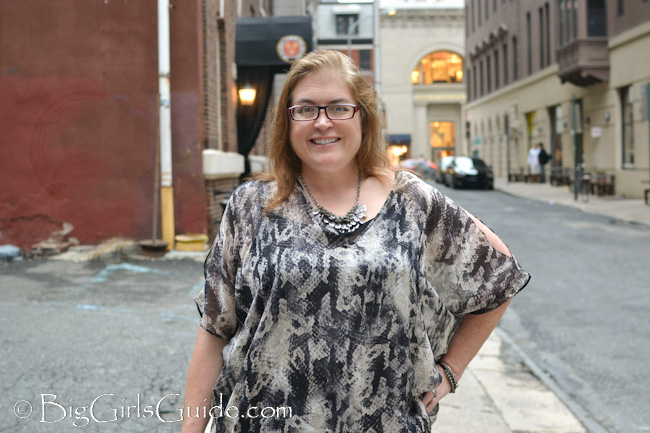 This top is a great fall top because it was actually 80 degree and 90% humidity.. the top allowed me to look appropriate for fall and still be comfortable.   I already know the next event I am wearing the CushieB top too.  I want to pair it with leather pants.  I think that would be great through out the changing weather seasons, looking classy and sexy through out the holidays!
Cushie B a American made plus size apparel clothing line.  Started by U.K. born , Val Thompson dreamed of becoming a costume designer. While studying fashion in college, she discovered her passion for knitwear and became a genuine "knitwit."  She achieved success working for several high-end designers in New York and while she loved creating beautiful clothing for women, Val found that her personal fashion options were limited. After having three wonderful daughters she began to experience firsthand how frustrating it is as a larger woman to find quality, designer plus size clothing. She was fed up having to trek down into the basement of a store for drab, dreary garments.Thus she gave birth to one more child, cushie b; a line of luxurious knitwear for plus size women, who like Val, are healthy and confident and entitled to the same high standards and design options as everyone else.
The name comes from the chorus of a folk song from her hometown of Newcastle in northern England:
She's a big lass and a bonnie lass and she likes her beer.
And they call her cushie Butterfield and I wish she was here."
I have to say I love the story of the name and fitting I wore the top to a beer event
Currently ChushieB  is offering a 15% off to 1st time buyer and free shipping free returns to US buyers.  So be sure to head on over an purchase some amazing Luxury Plus size at CushieB.
When thinking CushieB just think Luxury, great fitting,  and quality plus size clothing!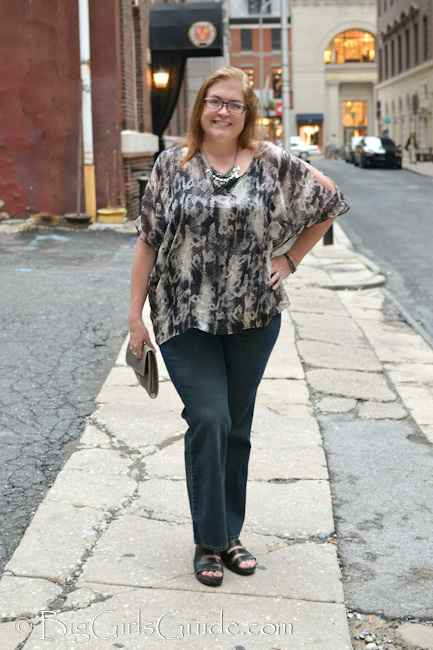 Linking up to Pleated Poppy ,
Garay Treasures BloggersWhoInspireMe





by