by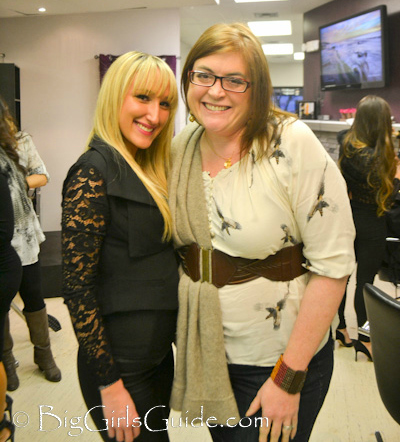 Salon Rosa M :  Style Tips Spring 2015  – So you might have noticed an update to my look in the past week.  I got a new spring hair covering the grey of winter past from Melissa at Salon Rosa M when I attending an evening of hair and beauty for the upcoming Spring and summer.  I was fortunate to have Melissa lighten up my hair, she colored, glazed and painted/pulled through highlights.   Then Melissa cut my hair for a fresh new look.  I normally have a reaction to color, I am becoming more and more sensitive.  The color Melissa at Salon M used I had no reactions and it covered my lovely roots.   Melissa advised me if you are more than 10% grey box color will not work as well so see a professional.   I could not be more pleased  by the condition and care Mellisa took with my hair. More about what I learned below..

Hot Trends Hair and Beauty Trends for this Spring Summer 2015
During the Event  Salon's Owner and Creative Director Rosa Martinez presented style tips and her new collection of five, cut and color combinations she says are perfect for this year's warm weather season,   trends like hair extensions, balayage highlights, creating a headband with your own hair and more.
The Balayage is the treatment I adored it is adding a lighter color to the end of the hair and Salon Rosa M stylist's defiantly specialized it the Balayage treatments.  The reason I loved it because it is a great way to add lightness and a sun-kissed look that will look great over time as your  hair grows.  Prefect for the busy Mom.   I personalty can't wait to have the stylist at Salon Rosa M Balayage my hair.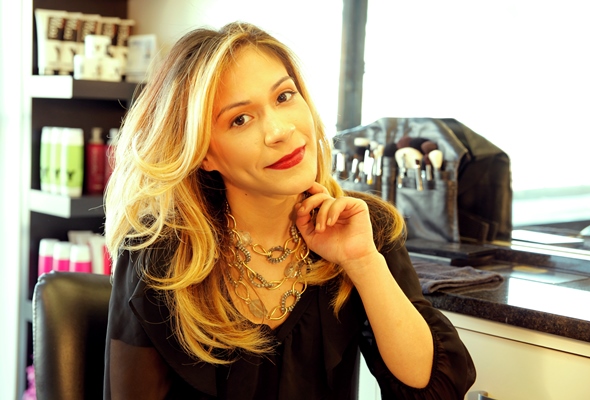 Picture provided by SalonRosaM
Another hot trend to watch for Spring 2015  is a shorted edger pixi cuts.. that can be made edgy with product or softened when needed.   They are defiantly a statement and do require more salon visits but fun light summer friendly style.  What a great no fuss hair style.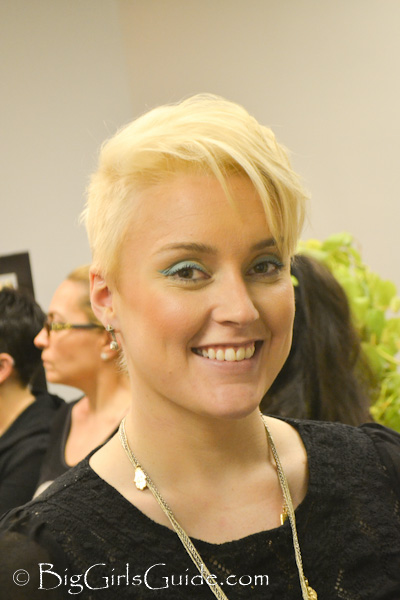 A fun trend is adding easy to remove hair extensions that add a pop of color to your hair.. This photo is The Salon's Owner and Creative Director Rosa Martinez  adding a dark blue extensions to the models hair for a fun summer updated look.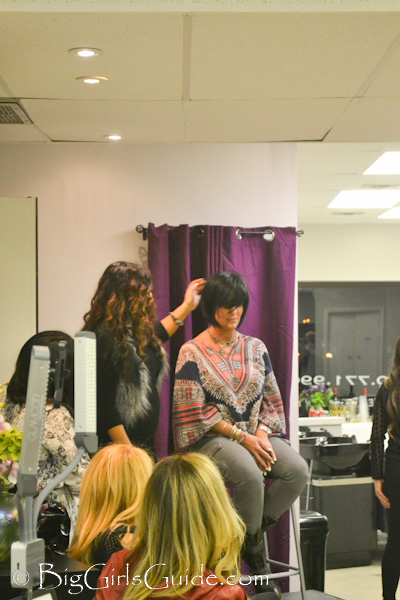 I think my favorite quick tip provided by Melissa was the simple boho Braid headband.  Mellisa simply braided the models hair in a small braid near her ear then pulled the braid to form a headband, attaching it with a straight Hair pin to the other side of the models head.  Such a simple yet quick way to look playful this spring.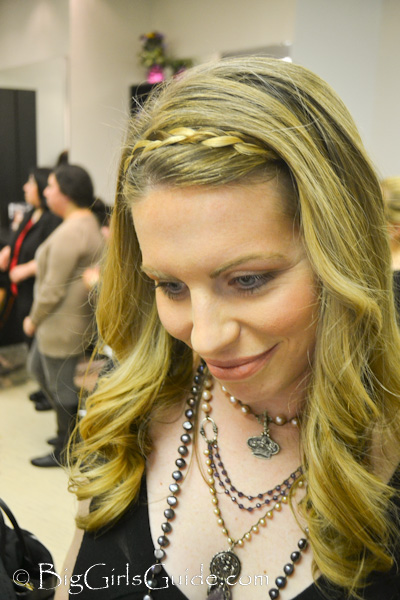 So what about Makeup?   Spring is a focus on one Bold area- Strong Lip  then a natural eye.  Or go with a well lined eye, then a natural lip.  Think focus on one focal point in your make up.
The Spring Event was held Salon Rosa M, located at 948 Montgomery Ave. in Narberth, PA hosted an event to celebrate the end of winter and the beginning of the Spring/Summer 2015 beauty and style season. To commemorate this annual industry transition the salon's owner, Rosa Martinez, hosted a VIP press party followed by a beauty event which incorporated a presentation on the latest in warm weather styles and tips for beauty junkies.  Generous food sponsors, The Art of Bread and Citron and Rose provided delectable treats for guests to nosh on while they were updated
About Salon Rosa M
A full-service hair salon located on the Main Line in Narberth, PA at 948 Montgomery Avenue, Salon Rosa M opened its doors in the spring of 2013 as the first independent venture of Rosa Martinez to showcase her many talents and share them with her extensive clientele. With over 20 years in the business and a passion for fashion and design, Salon owner and celebrity stylist Rosa Martinez has been a return guest on "The 10 Show," a repeat 'Best of Philly Winner' in "Philadelphia Magazine", and a recipient of the 'Most Intricate Hair' award at Hair Ball. Most recently, Salon Rosa M has been featured on the show "Wednesday's Child" and has styled for Stars Network "Magic City."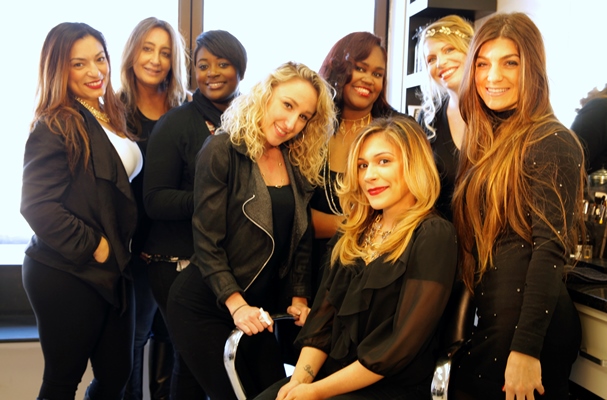 Picture provided by SalonRosaM
I have to say I really enjoyed the environment at Salon Rosa M.  The staff was top notch, everyone was focused on learning the latest and best techniques for improve your hair from the healthy to look.   I can't recommend them enough.  The covered my stubborn grey and provided me for the style and color I was looking for.
Appointments should be made in advance by calling the salon at 610.771.9900 or by emailing SalonRosaM@gmail.com.
948 Montgomery Ave
Narberth, Pennsylvania 19072
Disclosure:  I was provided a new hair style and gift bag  from with samples Paula Ashley Jewelry, Linda's Loft, Essence Cosmetics and In Her Shoes a Unique Shoe Store for attending the event.
Linking up to Fashion Friday





by