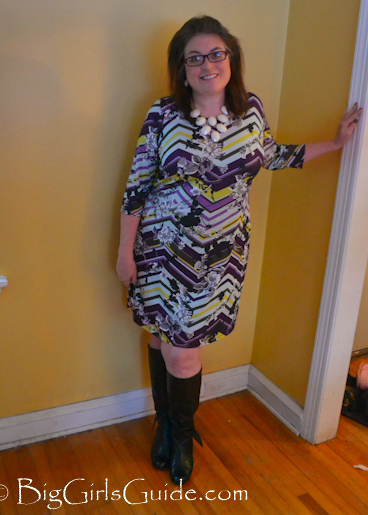 Plus Size Fashion over 40.  This week has been very busy.  Saturday night my son had a sleepover with 7 friends for his 14th .. that right 14 birthday.. I know I don't look old enough to have a 14 year old.  He actually grew about 7″ this past year,  he out grew me and my 5'10 frame.
Growing teens are so lucky.. he can eat and not gain because everything is going into growing.  Yes but he only eats meat, fish and chicken,, every once and while he eats potatoes.  As a mother his eating habits drive me a little nuts when I cook every night.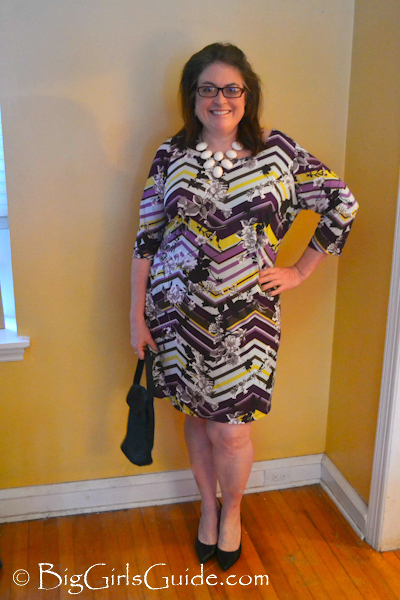 So this Sunday morning while to boys slept I tried on my new church dress that arrived from Gwynnie Bee.   I love the colors purples, grey, and yellow it reminds me of spring.  Plus Size Fashion over 40 you want to look  stylish and appropriate i love this dress because it is both.   I paired it with boots because it seams to be the only thing i want to wear on my feet in the sub zero east coast winter we are having.  I really love it with pumps,  time to hit the Jergens Natural Glow Firming Moisturizer, Fair to Medium Skin Tones 7.5 Ounces
so I have some color on my legs.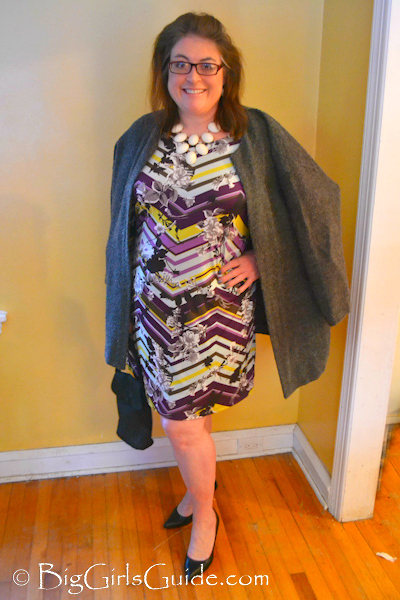 Finally I wore it with my JJill Pure Jill Minimalist Coat.  I love the easy of the dress it was fully lined.
Just hear the news say it is a balmy 22 degrees outside right now.. Stay warm spring clothes will be here soon.   I hope.
Check out my other posts for Plus Size Fashion over 40 :
30 Great Plus Size Swim Cover Ups

I am linking up with the Following:
Pleated Poppy What I wore Wednesday