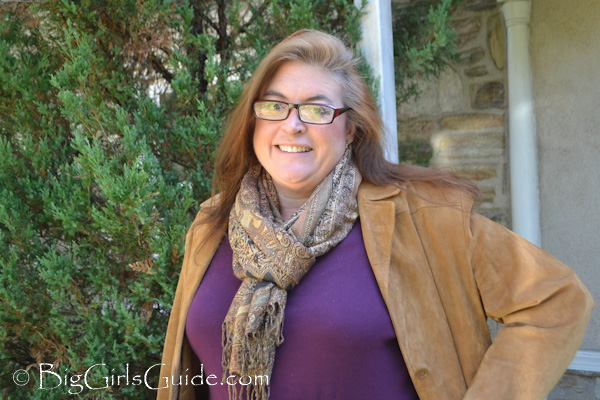 Plus Size fashion for fall:  What I wore.  so this dress I love I purchased it from Lands end it was on sale.  It was the in color last season.  I have to say this dress is my color or so I have been told by many.  I got the dress for office days at work,  it s great knit dress that is comfy, but classy.  I can say it hangs great and washes wonderful.. which is not always my experience with washable knit dresses they usually look haggard or pilled after a wash.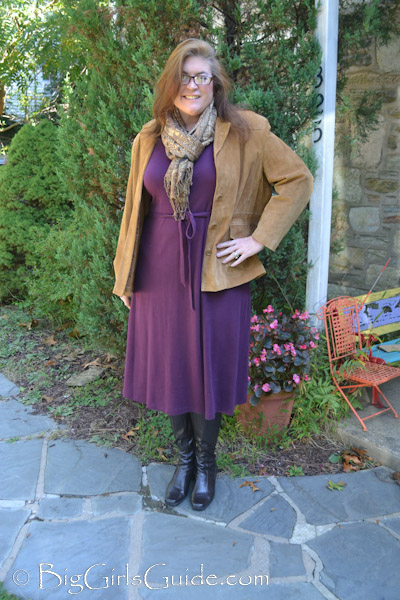 I paired the dress with my closet finds.  The suede blazer I have had for years but I like the casual look it.  The scarf was a gift from my mother Jones New York. It has gold in the weave so it is fun to match some gold earrings and a way for me to avoid looking for the a great gold necklace that I don't own and cant be found in my closet.  The boots are Areosoles, great for wide calves and high enough with the dress so I can avoid wearing tight or stacking for warmth.
Alos a Great Bra helps with this dress
8 Tips for buying a knit dress:
Make sure dress is not 100% cotton- make sure there is a spandex, polyester, or non organic content this will help the dress retain its shape
Do Buy the correct fitted size -  the dress should hug your curves but not look like street walker-  Knits then to stretch when worn so don't buy loose
Wear the correct undergarments-  That means a slightly padded well fitting bra-  sot he girls don't sag
Invest in body shapers to hold in you bits
Make sure the dress is long enough if it is a tight dress it will ride up
Don't be afraid to try a different belt, then the one that comes with the dress
Dont tag tags off till you try on at home
Wash dress alone , not with other clothes they will make the hems roll
Have a great week !
I am linking up with the Following: Pleated Poppy What I wore Wednesday